Hello everyone! Today we are thrilled to share the exciting news that Lunar Client is partnering with MCC Island, a new innovative multiplayer experience for Minecraft: Java Edition produced by the creators of MC Championship, Noxcrew. I will be going into more detail on everything you need to know about MCC Island, such as how to join the server, what game modes it has, and much more!

What is MCC Island?
MCC Island is a free to play public Minecraft server that allows everyone that follows MC Championship to enjoy their favorite game modes from the event. These game modes include Hole in the Wall, To get to the other side, Battle Box, Sky Battle, Parkour Warrior Dojo, and their upcoming addition to the island, Parkour Warrior Survivor! Not only does MCC Island offer amazing game modes for you to enjoy, they also offer an expansive customization system for your character with some amazing cosmetics that you can earn just by playing! I will be going into more detail below about the amazing features you can expect when joining MCC Island. MCC Island supports the latest versions of Minecraft: Java Edition such as 1.19.4 all the way up to 1.20.1, if you are looking to join in on the fun today, the server IP is play.mccisland.net.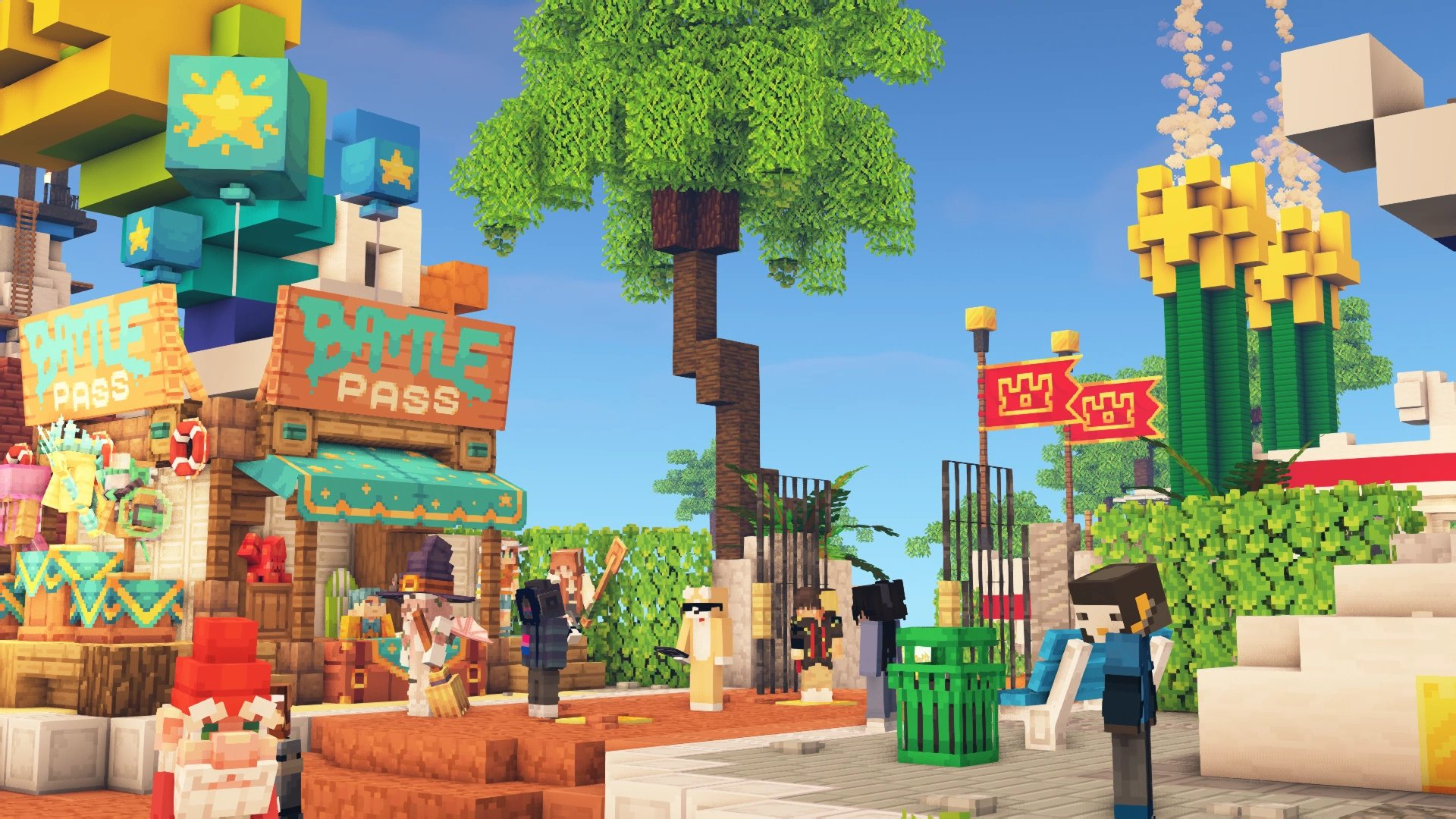 Game Modes
MCC Island features 5 game modes currently on the island with plans of adding more! I will be explaining some of these awesome game modes down below!
Hole in the Wall

Hole in the Wall is one of Noxcrew's oldest game modes, it is a last-man standing game where players stand on a platform and dodge giant walls of slime moving towards them. These walls move faster overtime and the platform will start to shrink beneath your feet. There are also various tricks and traps that will appear when progressing through the rounds, so be on the lookout for that!

To enhance your experience while playing, we recommend users to try out our Hitbox Mod on Lunar Client. This mod will allow you to see your player's hitbox to prevent those pesky walls from knocking you off the edge!
To Get to the Other Side

To Get to the Other Side is a parkour race game mode. You must make your way to the opposite side of the map by bridging or using your parkour skills to discover the quickest path. Watch out for other players as they have the same goal as you and can knock you off your path. Once you reach the finish line, you will need to punch one of the chickens to complete the race.


To enhance your experience while playing TGTTOS, we recommend that you use the Momentum Mod on Lunar Client. This mod allows you to see how fast your character is moving, allowing you to keep track of what's slowing you down on the race!
Battle Box

Battle Box is a capture the flag-style game featuring multiple quick rounds. To start this game begin by picking your unique battle gear and preparing for a fight! The goal of the game mode is to fill a central capture point to win the round!


To enhance your experience while playing Battle Box, we recommend that you use the PvP Info Mod on Lunar Client. This mod lets you see your current, daily, weekly, monthly, yearly, and all time PvP Stats whilst using Lunar Client.
Sky Battle

Sky Battle is an intense PvP game where the last team standing wins. You start on your team's island, and have to maneuver tactically to collect loot and eliminate the other players along the way. As the game progresses a border starts to shrink smaller, forcing players to move to the center of the map.


To enhance your experience while playing, we recommend that you use the Hurt Cam Mod on Lunar Client. This mod will allow you to change the intensity and can even fully remove the hurt camera animation while PvPing.
Parkour Warrior Survivor & Dojo

Parkour Warrior Survivor is a multiplayer elimination race game mode that allows you to put your movement skills to the test by playing in an expansive parkour course against other players. In this game mode, the first person to reach the finish line and outlive the other players wins!

Parkour Warrior Dojo on the other hand is already available on the island! It is a solo parkour game mode that allows you to perfect your parkour skills on various different parkour courses and challenge yourself to get the best time possible. In this mode, you can risk difficult paths for additional coins or stick to the main course - the only thing that matters is reaching the finish line!


To enhance your experience while playing Parkour Warrior on MCC Island, we recommend that you use the Block Outline Mod on Lunar Client! This mod will help you see what blocks you're looking at which makes it easier jumping block to block.
What is MC Championship?
MC Championship (MCC) is a privately-held event that brings together some of your favorite YouTubers and streamers in the Minecraft community to compete in various different minigames created by Noxcrew. The event usually has ten teams of four players and after 8 rounds, the two teams with the most points face off in a round of Dogebolt to decide the winner of the tournament. MC Championship is renowned for its exhilarating gameplay, vibrant events, and strong community, captivating audiences around the globe. The event regularly garners the world's largest Minecraft content creators (including Lunar Client partners such as Hannahxxrose, Tubbo, and more), pitted against each other in a live event to test their skill and teamwork with the aim of climbing the leaderboard to be crowned victorious.
What is Lunar Client?
If you're unfamiliar with Lunar Client, we are an all-in-one modpack that includes hundreds of your favorite modifications, vastly improves FPS, and allows you to interact with your friends in Minecraft like never before. Lunar Client supports all modern versions of Minecraft: Java Edition, starting from 1.7.10 and going up to the latest version, 1.20.1. With Lunar Client, you will never have to worry about downloading or updating your individual mods ever again when a new Minecraft version releases. This, combined with the ability to run on Windows, macOS, and Linux, gives users a consistent experience across versions and platforms, no matter how you like to play! Download Lunar Client today from our Download page and jump into all of the fun on MCC Island.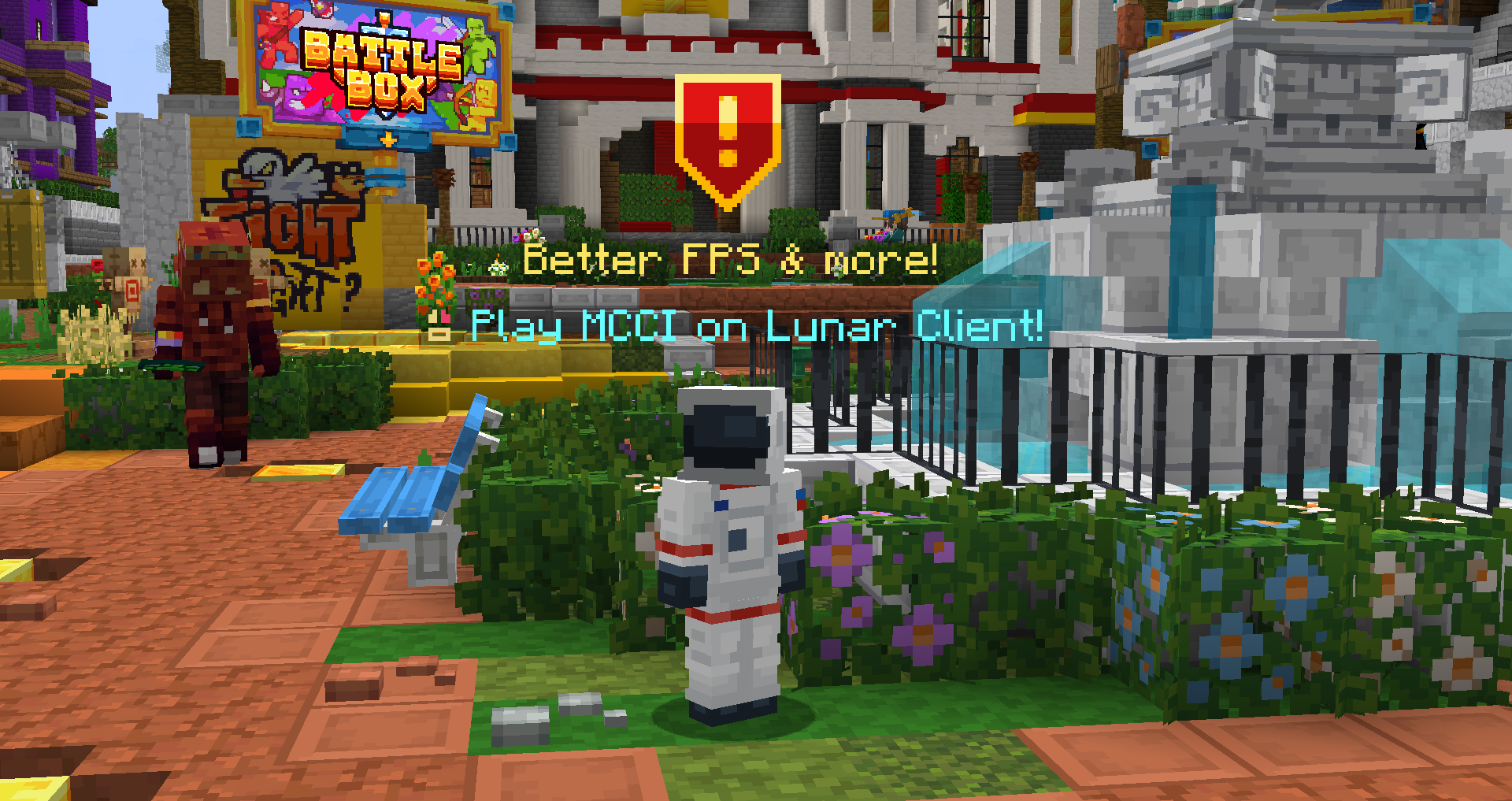 Features
Lunar Client does not only offer features for MCC Island, but it also offers various enhancements when enjoying Minecraft in general. Lunar Client has over 100+ modifications that will allow you to customize your game how you want it. I will jump into a few of these features and how they can improve your overall Minecraft experience.
All in One

Lunar Client is great for people that don't want to go through the hassle of collecting mods each time Minecraft comes out with a new update. Lunar Client updates their entire client with over 100+ modifications within hours of Minecraft releasing a new version.

Lunar Client updated to 1.20 within an hour of it's release!
Performance

Lunar Client also has performance improvements built directly into the client, allowing users to get the most frames possible when enjoying Minecraft. Lunar Client also gets a massive performance boost from third-party mods like Sodium and OptiFine which are also built into the client.

Lunar Client paired with OptiFine or Sodium can double your FPS in most cases!
Friends

Lunar Client has a built-in social system that allows users to connect with one another while playing anywhere on Minecraft! You can message your friends, invite friends to play, or join your friends servers. This feature is great for knowing exactly what server your friends are playing so you can join in on the action!

Joining your friends is so simple on Lunar Client!
Cosmetics & Emotes

Lunar Client has an extensive cosmetic system that allows you the express yourself in ways not possible in traditional Minecraft. This cosmetic system allows you to dress your character up with hats, masks, bandannas, cloaks, wings, backpacks, and more! We also have a unique emote system that allows the user to dance or show various gestures.

Here are some of Lunar Client's cosmetic types that you can customize your character with!
The Partnership
We are very excited to share some of the things you will see with this amazing partnership moving forward between MCC Island and Lunar Client. This partnership is very early on and we have big ideas working together in the future! I will be going over a few benefits with this partnership in detail below.
Branded Cosmetics

If you ever wanted to represent your favorite Minecraft server while playing Minecraft, then our branded server cosmetics are perfect for you! Keep an eye out on both Lunar Client's and MCC Island's social media for any announcements regarding the release of Lunar Client x MCC Island cosmetics.

Pay attention to our social media accounts for news regarding MCC Island branded Lunar Client cosmetics!
Launcher & Quickplay Integration

If you've used the Lunar Client Launcher, then you've probably seen it's featured servers on the home page. This bar of featured servers is called Quickplay and it allows you to instantly jump into some of your favorite Minecraft servers when launching Lunar Client. We've already added MCC Island to our launcher's home page and servers page, so jump in-game and check it out!

Join MCC Island today by clicking their icon on the home page or navigating to the servers page!
Quality of Life & Performance Mods

We are committed to give you the best experience on MCC Island as possible. We have already started planning out some quality of life mods that allows users to enjoy MCC Island like never before. We are also working closely with Noxcrew on performance solutions to improve your framerate on MCC Island while on Lunar Client. We recently added Noxcrew's visual and performance enhancing mod Noxesium to our Sodium and Fabric module for versions 1.19.4, 1.20, and 1.20.1.

Lunar Client will try to provide the best user experience on MCC Island!