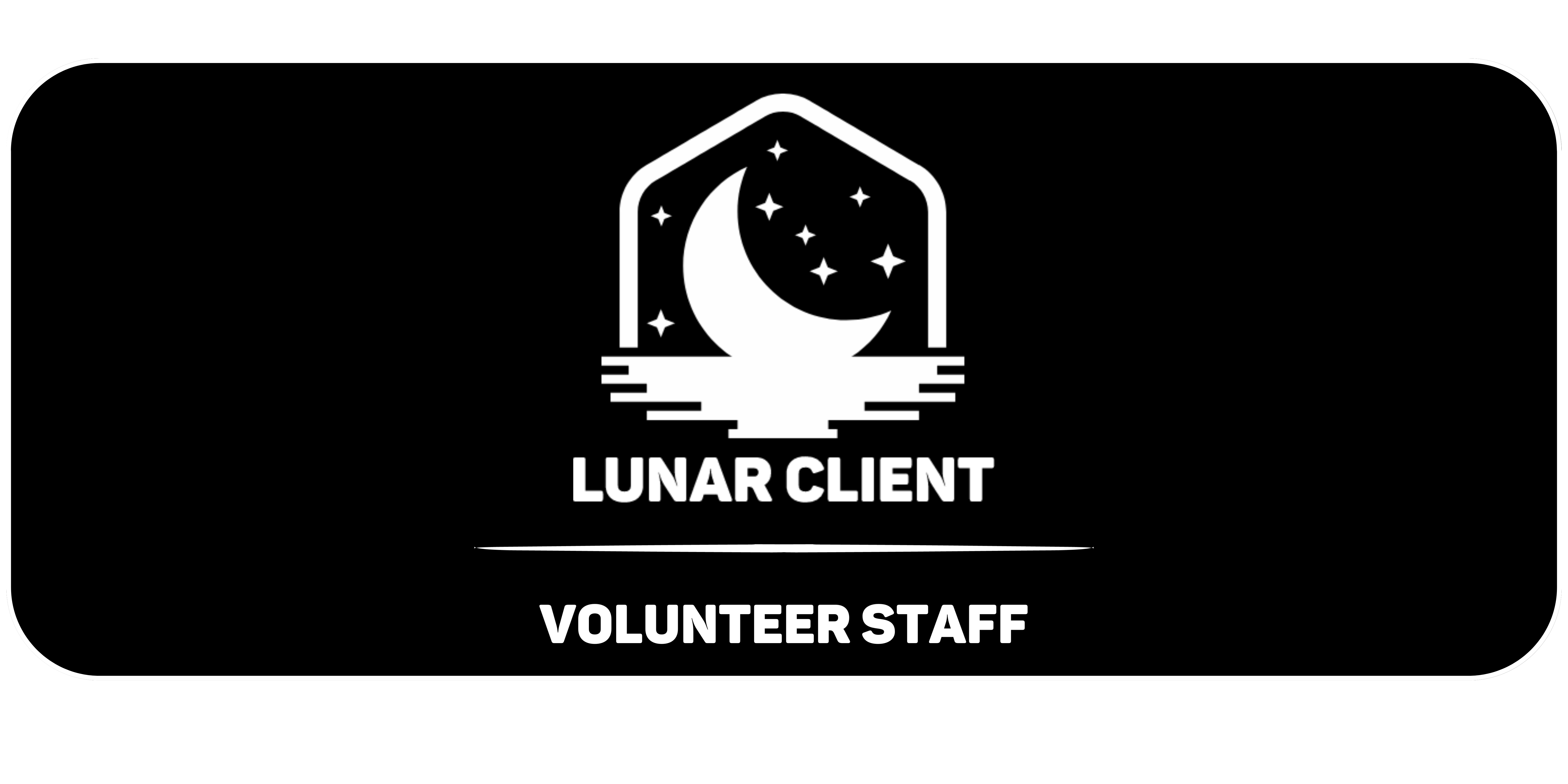 Who are we?
Lunar Client is one of the largest Minecraft Clients to date. Lunar has over 1.5 million monthly users, and more than 10 million downloads total. In addition to Lunar's sheer numbers, we develop a large number of mods to improve the Minecraft Java experience for our users ranging from aesthetic changes to quality-of-life improvements, and even performance enhancements. Lunar Client also ensures compatibility with the most popular Minecraft servers by directly partnering with servers such as Hypixel, TubNet, Shotbow, and many more!
We do our best to make sure everyone is included by offering multi-OS to support Windows, macOS, and Linux users. Minecraft players should all be able to enjoy the Lunar experience regardless of the system they have access to. However, maintaining such an enthusiastic Minecraft community is an extremely difficult task. It's thanks to all of our different staff teams at Lunar that things can keep running as smoothly as they do.
Lunar's Volunteer Staff Program
Due to the popularity of Lunar Client we often get many questions such as "How do I apply for staff", "Where do I become staff", etc. This post aims to answer these questions regarding our volunteer roles. These roles include Quality Assurance Testers (QA), Translator, and Chat Moderators.
If you're reading this post and are interested in our job opportunities for developers, artists, and more; please check out Lunar's official job page. These positions are different from our volunteer teams, and will have separate requirements from those mentioned in this post.
---
What Lunar is Looking for in Volunteer Staff
All applicants must be at least 15 years of age, with the exception of QA Testers in which all applicants must be at least 16 years of age to apply.

We look for those who are passionate about Minecraft and Lunar Client, while being able to produce honest work.

Applicants must be able to work well in a diverse and remote team setting.

Staff members are expected to represent Lunar Client, even on social media; applicants will be held to a high level of professionalism both on social media and in-game.

In your application, you will be asked how many hours you can dedicate each day to contribute to your team. Although it is flexible, you will be held up to those hours you indicate.
If you are an eager volunteer looking to help Lunar Client and the rest of the Minecraft Community, keep reading!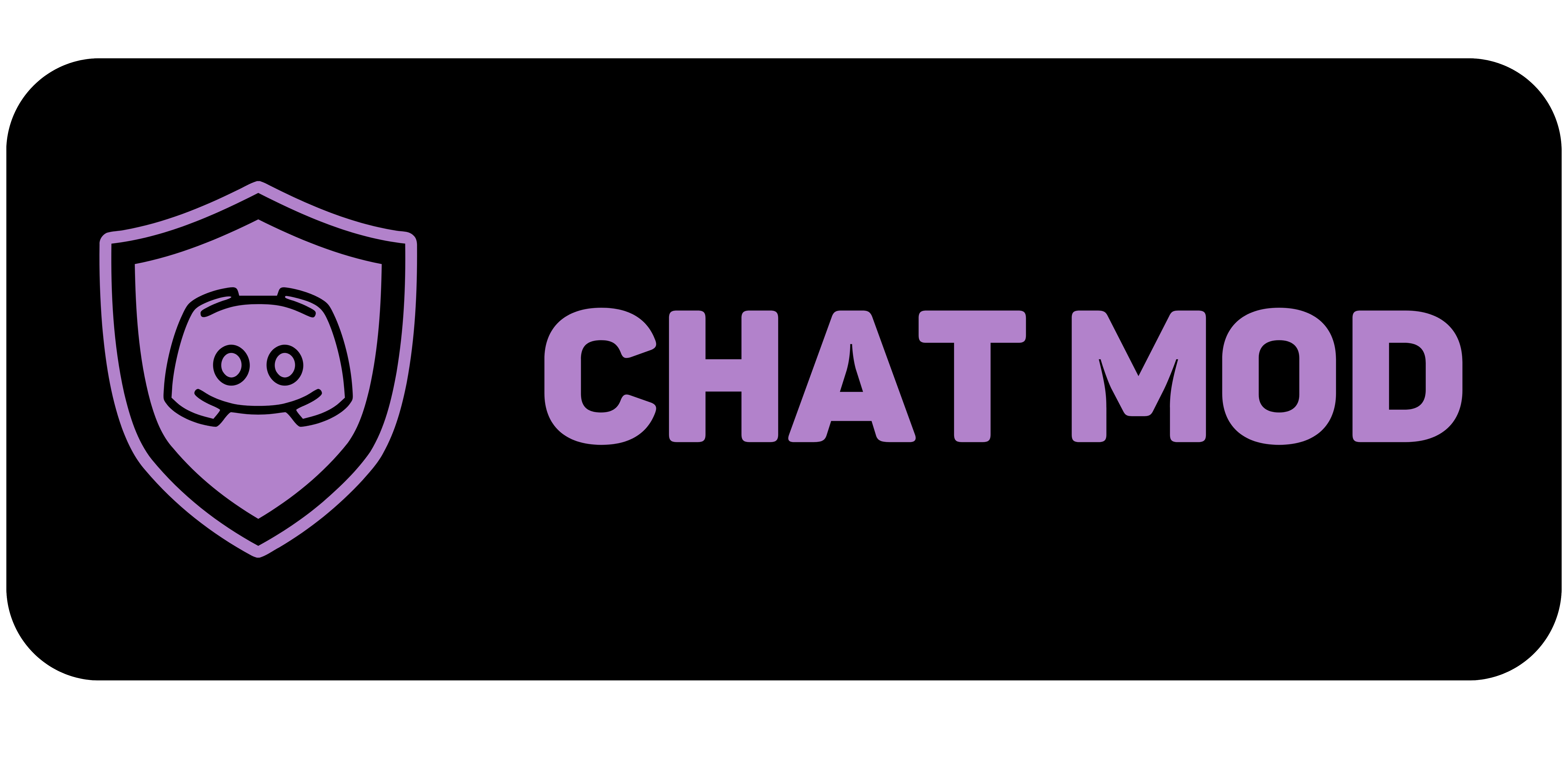 Chat Mods are staff members involved with the Lunar Client Discord. They will mainly help in the community support channel to assist in answering questions or issues directly about Lunar Client. Their other main goal is to ensure that Lunar Client Discord members follow the rules. If you are considering applying for this role, you must be relatively knowledgeable about Lunar Client features and use cases. Additionally, any previous moderation experience is a huge bonus! Especially if it is related to Minecraft.
To apply for the position of Chat Mod at Lunar Client, fill out this form.
How do I become Staff or an Agent?
The Staff and Agent roles are only achievable by promotion from Chat Mod. You cannot apply for these positions directly.
If you wish to become Client Staff or an Agent, you should start by creating a Chat Mod application.
Lunar Client is constantly changing, updating, and adding new mods for our community. However, we need players like you to help us squish all sorts of nasty bugs that may be crawling around between updates! QA Testers are responsible for helping developers find bugs or other client issues before they are released to the public. If you are considering applying for this role, you must be knowledgeable about Lunar Client features and use cases.
To apply for the position of QA Tester at Lunar Client, fill out this form.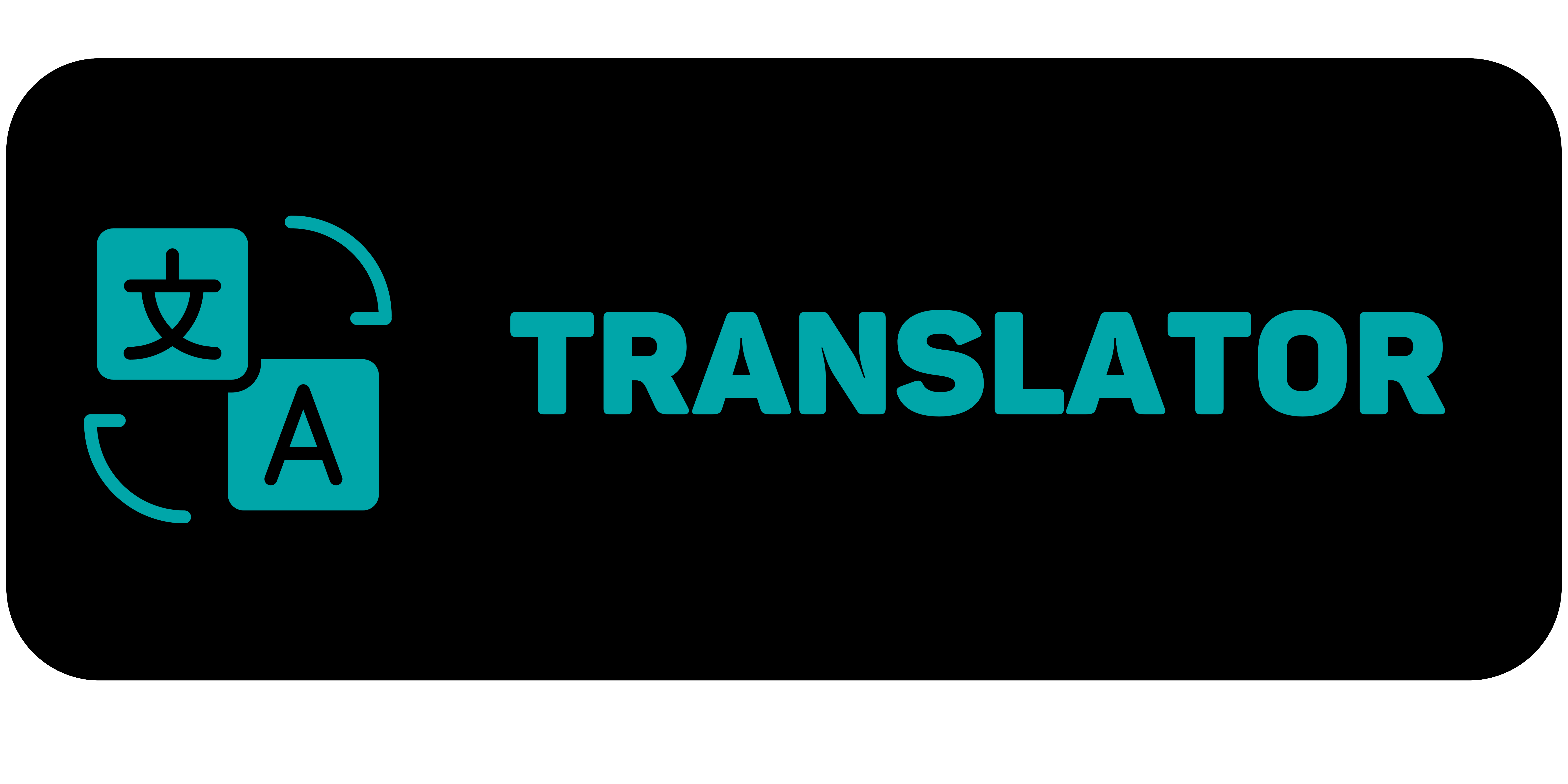 Translators help add new languages to Lunar Client so that we can reach more Minecraft players across the world! You do not have to speak fluently in the language you are applying for, but you must write professionally and follow proper grammar conventions. Additionally, you must be able to write fluent English as well, to communicate with the rest of the translation team. There is a list of languages we are currently looking for on the application page. If your specific language is not listed, please apply with the "Other" option, and indicate what it is you wish to translate.
To apply for the position of Translator at Lunar, fill out this form.
Lunar Staff Team Recruitment Process
1. Application Submission
After you have submitted your application a team manager will review it. Due to the number of applications, we get, there is no telling when you may receive a response back. Be patient!
1.1 Unsuccessful Applications
Unsuccessful applications will not receive a response. If you do not get a response within four weeks, it is safe to assume you have been denied.
※ An exception for this is the Translation team since we will go through the applications as we need more translators for that language. This means that you could receive a response a couple of weeks or months after you have submitted an application. If there is anything you would like to add that's not listed in your initial application, feel free to re-submit and we will review your most recent application.
2. Interview
Successful applicants will receive a response via Discord and be invited to an interview. We may also ask for more information if we feel something was missed in the written application.
2.1 Unsuccessful Interviews
Unfortunately, if your interview does not go well, you will be denied. Unlike applications, we will contact you to inform you of our decision directly.
3. Team Integration
If your interview is successful, you will be contacted with some instructions, and begin integration into the team!
Welcome to Lunar!
4. Guidelines for the Recruitment Process
Do not ask staff members about the status of your application as it will greatly decrease your chances of being accepted.

Please be honest when answering application questions. If you are caught lying, you will be instantly denied, or demoted. You may also be banned from creating further applications.
FAQ
Can I apply for more than one staff role?

Yes, you may apply for multiple roles. It is highly recommended to only apply for one at a time to see how you fit in with the team first.

Remember, you are still expected to contribute consistently to all teams you are a part of!
My application has been denied, how can I improve?

You were most likely denied because you either lack experience or did not distinguish yourself well enough from other applicants. Feel free to re-submit an application in the future (at least 2 months after your initial application) if you think you're ready.

When writing about yourself think about how the point you just made relates to the role you are applying for, and how it might help make you a stronger candidate.

Otherwise, gaining some more experience in the area you are interested is also a big help. Applicants with past backgrounds or knowledge in related fields have a greater chance of being accepted!
How do I become Staff or an Agent?

The Staff and Agent roles are only achievable by promotion from Chat Mod. You cannot apply for these positions directly.

If you wish to become Client Staff or an Agent, you should start by creating a Chat Mod application.
Am I allowed to ask about my application?

No, please refrain from asking any staff members about your application. It will only make your chances of being accepted worse.
I'm younger than the age requirement, can I still apply?

We set the age requirements as we feel applicants have gained enough life experience at that point to assist competently. If you do not meet the age requirement, you will be denied.

Even if you think you are "more mature for your age than others" we will not change the requirement for you.
Are these positions paid?

This post highlights strictly volunteer roles, meaning they are unpaid.
Where can I find Lunar jobs?

Lunar Client has job positions open here.
Where can I report staff members?

If you notice a staff member breaking the rules, please create a support ticket with a detailed explanation and preferably some evidence (screenshots, recordings, etc).

We do not tolerate abuse of any kind.
Is Lunar Client associated with Mojang Studios?

Lunar Client is in no way affiliated with Mojang Studios. Lunar is a third-party client and modpack for Minecraft Java Edition.
Lunar Staff Team Snapshot!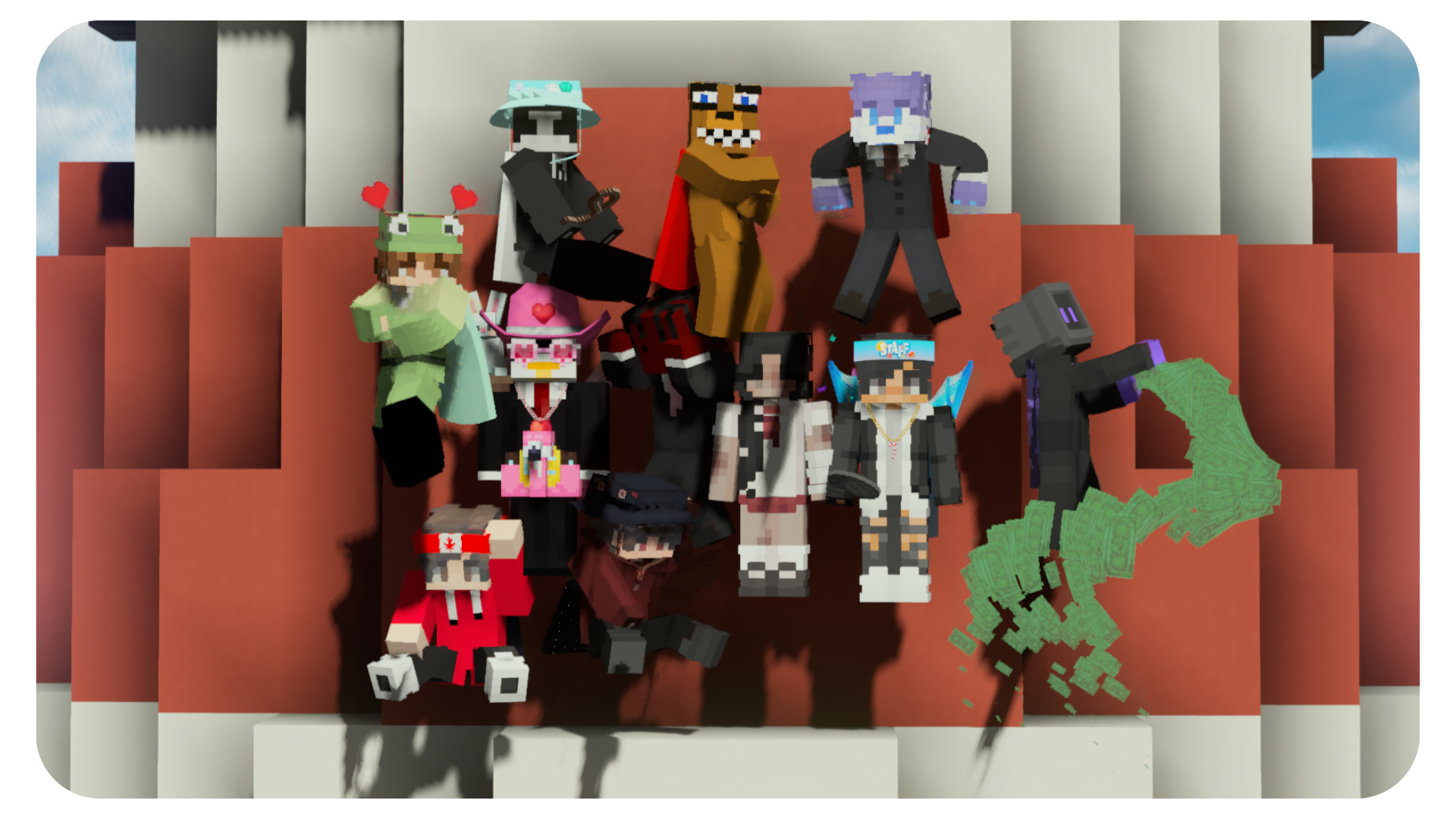 Still looking for a reason to apply? Besides working for the most awesome Minecraft Client? Lunar Client is an amazing place to find friends, and learn some new skills. We are extremely flexible and can be supportive of busy students, or other responsibilities. The Lunar Staff Team wishes to constantly improve the Minecraft experience for the community, and promote an inclusive environment for all players. We want players as enthusiastic as us about Minecraft to apply so we can continue to build something truly unique!
To finish off this post, here are testimonials from some of our lovely staff members!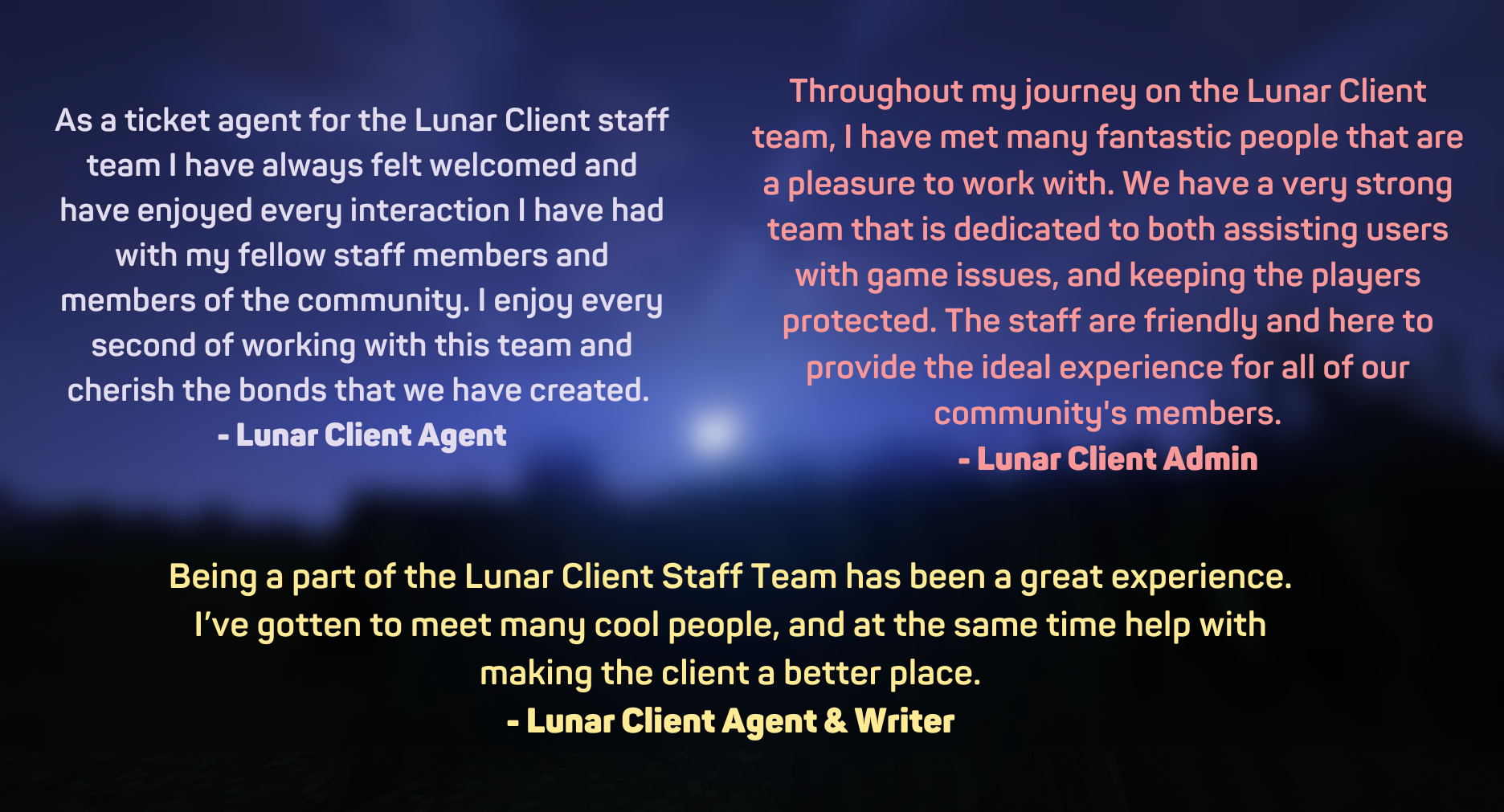 Well? What are you waiting for? Get started on that application!
Need More Information?
Check out our full Client Staff list here.
The complete list of our socials can be found here.
If you have any questions or concerns reach out to our staff team on the Lunar Client Discord or send a ticket to our support team.