Are you a Minecraft content creator? Are you frustrated with the limitations of Minecraft's quality-of-life features in terms of content creation? Look no further! Lunar Client has a wide array of different features aimed toward content creators to help boost productivity, provide a better experience, and most importantly, allow you to deliver the highest quality Minecraft content. This article covers what these features are and how you can make the most of them.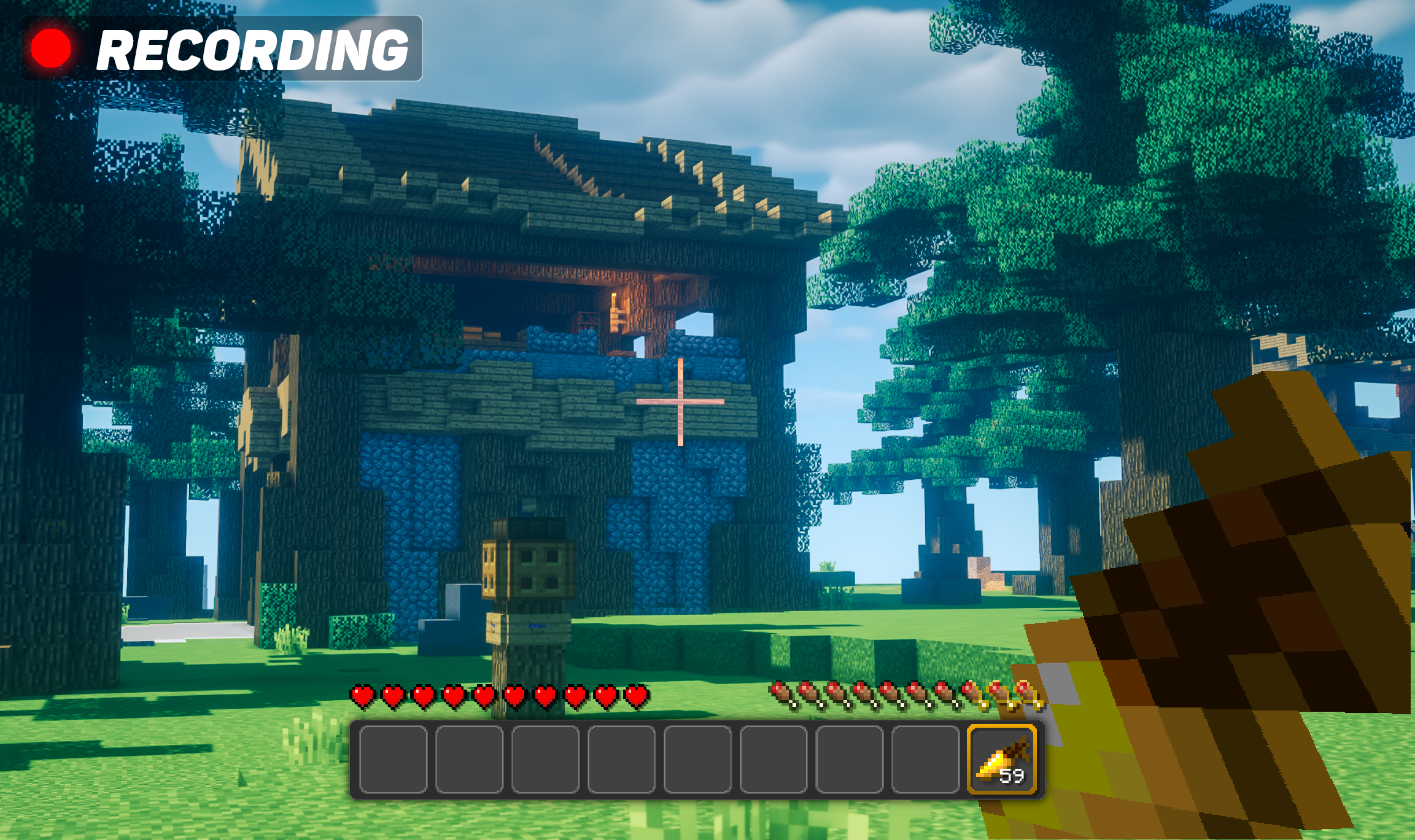 To begin, ensure that you have downloaded Lunar Client by visiting https://www.lunarclient.com/download and downloading the appropriate installer according to your operating system. Once you've downloaded the Lunar Client installer, run the file and follow the prompts on the screen—the Lunar Client Launcher will automatically open once you've finished installing Lunar Client. After you've opened the Lunar Client Launcher, all you need to do now is press the bright green Launch button in the middle of the screen.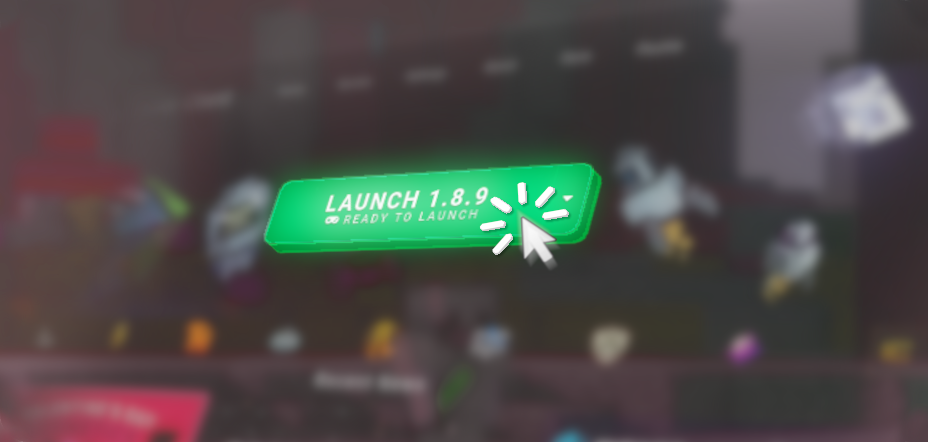 Using Lunar Client as a Content Creator
Now that you've installed and launched Lunar Client, let's explore the features that make Lunar Client the best platform to assist you with content creation!
Better Performance
Many content creators often struggle to record or stream Minecraft while also having high FPS. Luckily, Lunar Client provides a built-in performance boost so that you can freely follow your content-creating aspirations without being limited by your frame rate. If you are unsatisfied with the performance that you are getting while using Lunar Client, don't worry! We have another article that provides detailed instructions regarding getting the most out of Lunar Client's FPS boosting capabilities—you can find this article here.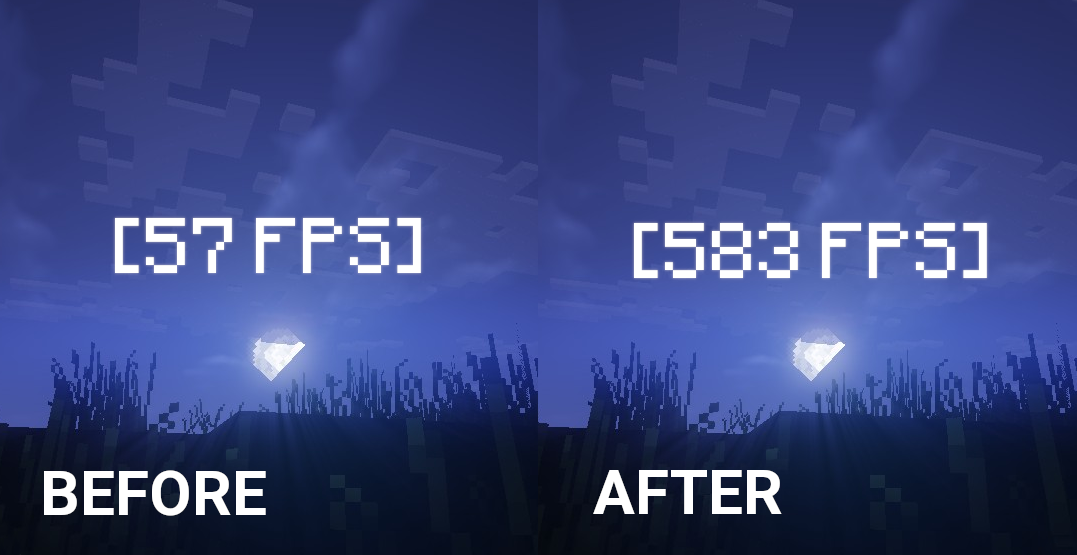 Stream Sniping Prevention
Have you ever had your Minecraft stream ruined by pesky stream snipers? Say goodbye to these trolls with Lunar Client's Nick Hider Mod. With this mod, you can hide both your username as well as the usernames of other players inside your game, making it impossible for stream snipers to determine what your username is or which game lobby you are in!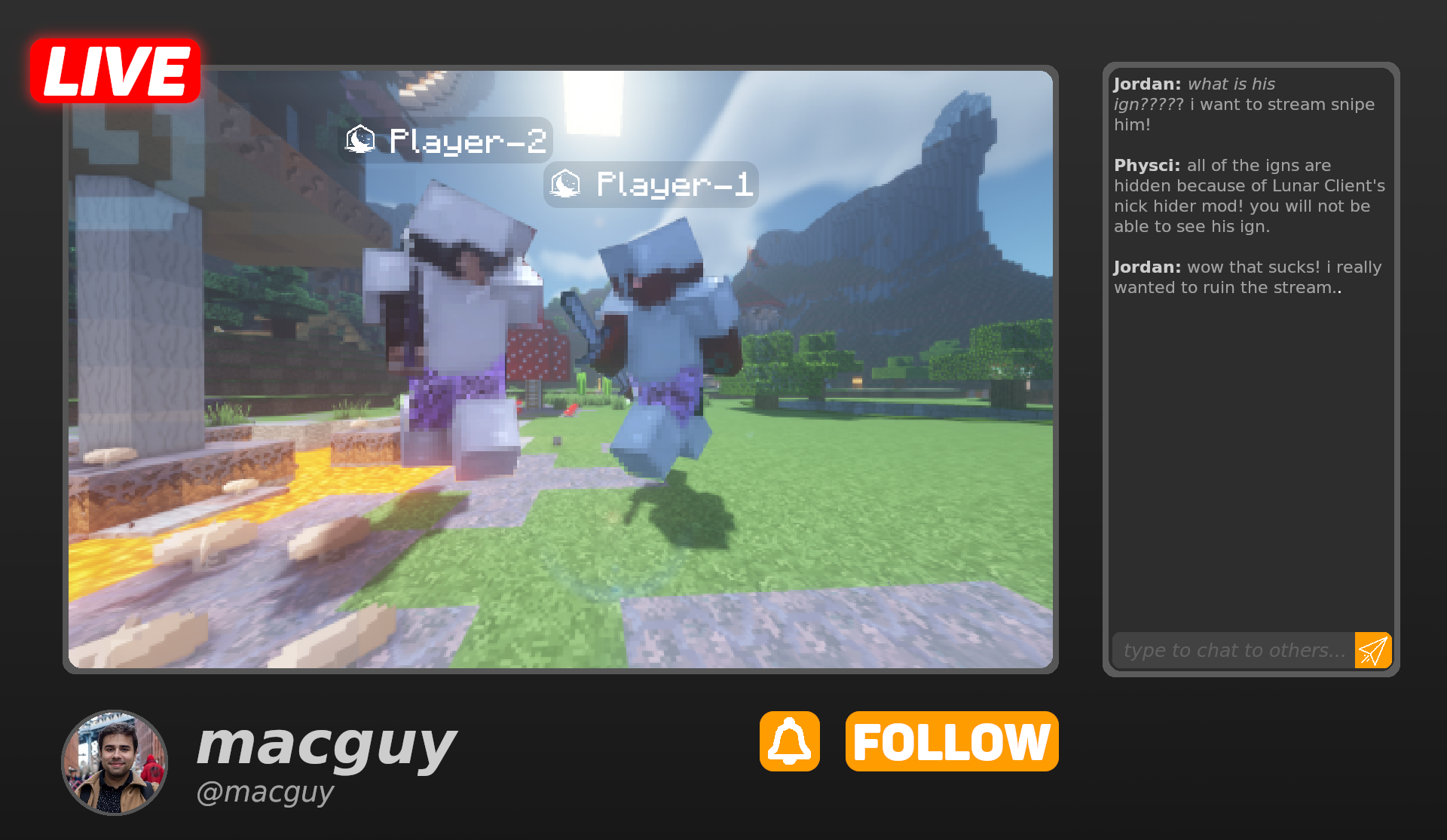 To start using the Nick Hider Mod, launch Lunar Client and then navigate to RShift > Mods > Nick Hider and enable the mod. Once you've enabled the Nick Hider mod, you can customize the mod to your liking.
To hide your own username—both in chat and in F5—enable the Hide Your Nick and Hide Your Real Name options. You can give yourself a custom nickname by entering text into the Nickname box. Enabling the Hide Others Names option will rename other Minecraft players to a prefix combined with a random string of characters. You can change the prefix by entering text into the Hidden Player Prefix box.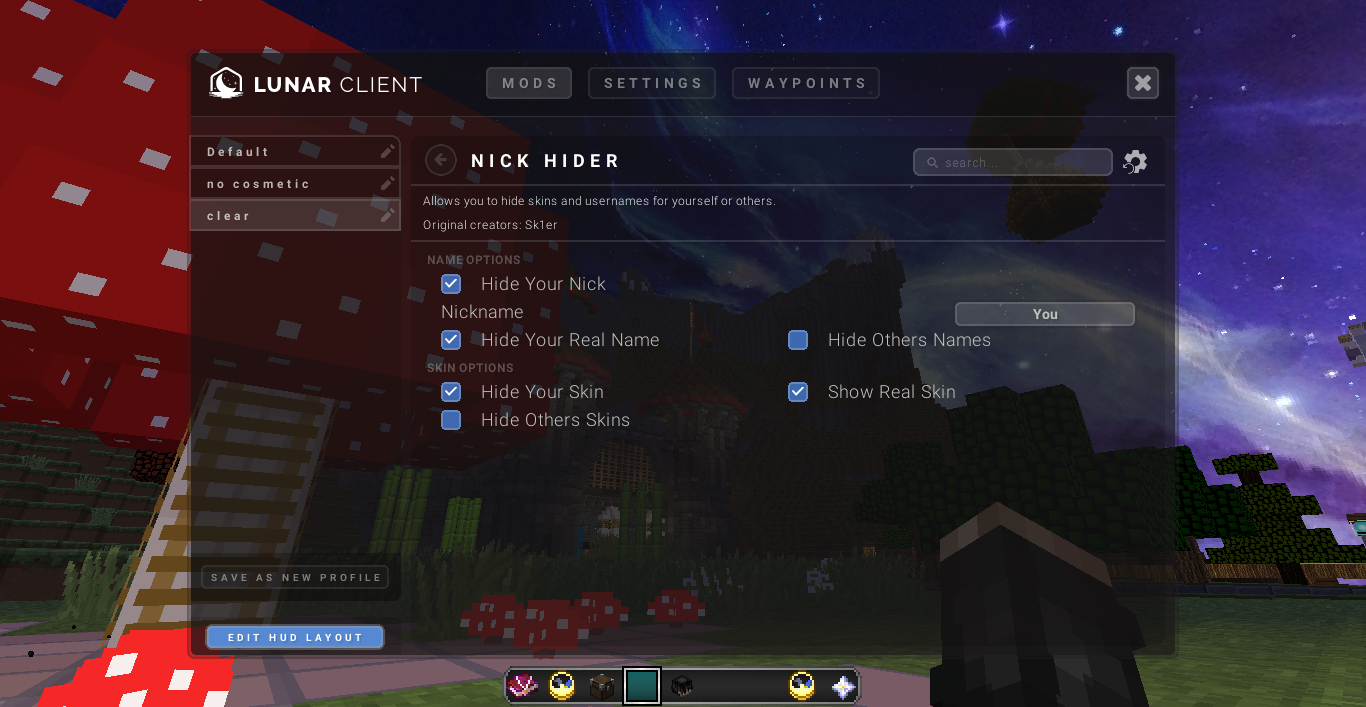 With the Nick Hider mod, you can also hide the Minecraft skins of other players. This can be done through the Hide Your Skin, Hide Others Skins, and Show Real Skin options.
Boost your Brand with a Partnership
With over two million active users, Lunar Client is one of the largest and most trusted Minecraft clients. As a content creator, Lunar Client can help to bring better recognition and trustworthiness to your brand through a partnership. A Lunar Client partnership allows you to have your own custom cosmetics, from which purchases directly support you. Furthermore, a Lunar Client partnership allows you to stand out from other Minecraft players and draw interest to your platform, among numerous other benefits. To apply for a partnership, visit https://www.lunarclient.com/partnerships.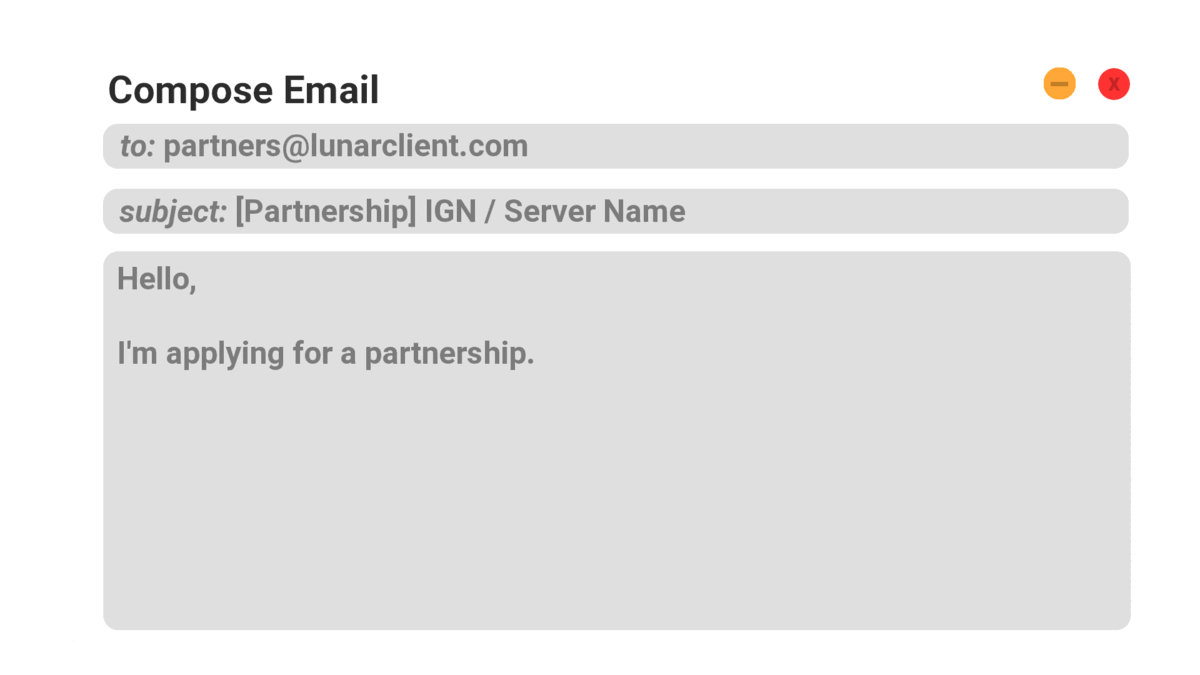 Seamlessly Switch Between Settings Profiles
Do you often find yourself switching between certain mods and settings when you are creating content vs. when you are off camera? Lunar Client's profile system allows you to create separate mod profiles for different scenarios. For example, you can have a mod profile for recording and a mod profile for normal use.
To begin using mod profiles, press the RShift button on your keyboard and then click on the Mods button. On the right, you'll see a list of mod profiles. You can create new mod profiles by pressing the + button, which will open a prompt containing fields for the profile's name as well as for servers that you would like the profile to activate automatically upon joining. Once you've entered a profile name, simply click the Save As New Profile button to create your profile. Now you can say goodbye to constantly reconfiguring your mods for recording!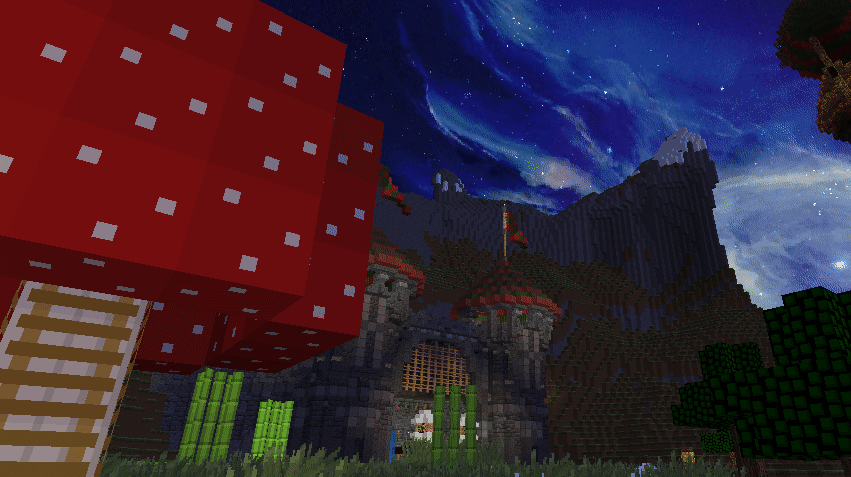 Improved Viewer Experience
Lunar Client offers various features that can improve the experience for your viewers. Whether it be making Minecraft look nicer or providing information on screen, Lunar Client is sure to make your viewers have a better experience—it can even lead to increased viewer retention! Let's go over some of the mods and features that make this possible.
The Color Saturation Mod allows you to brighten up your game and give your viewers a more vibrant and captivating experience. To access the Color Saturation Mod, navigate to RShift > Mods > Color Saturation. After enabling the mod, you can change the hue and saturation inside the mod's settings to your liking! In conjunction with shaders, this mod can vastly improve the quality of your content.
before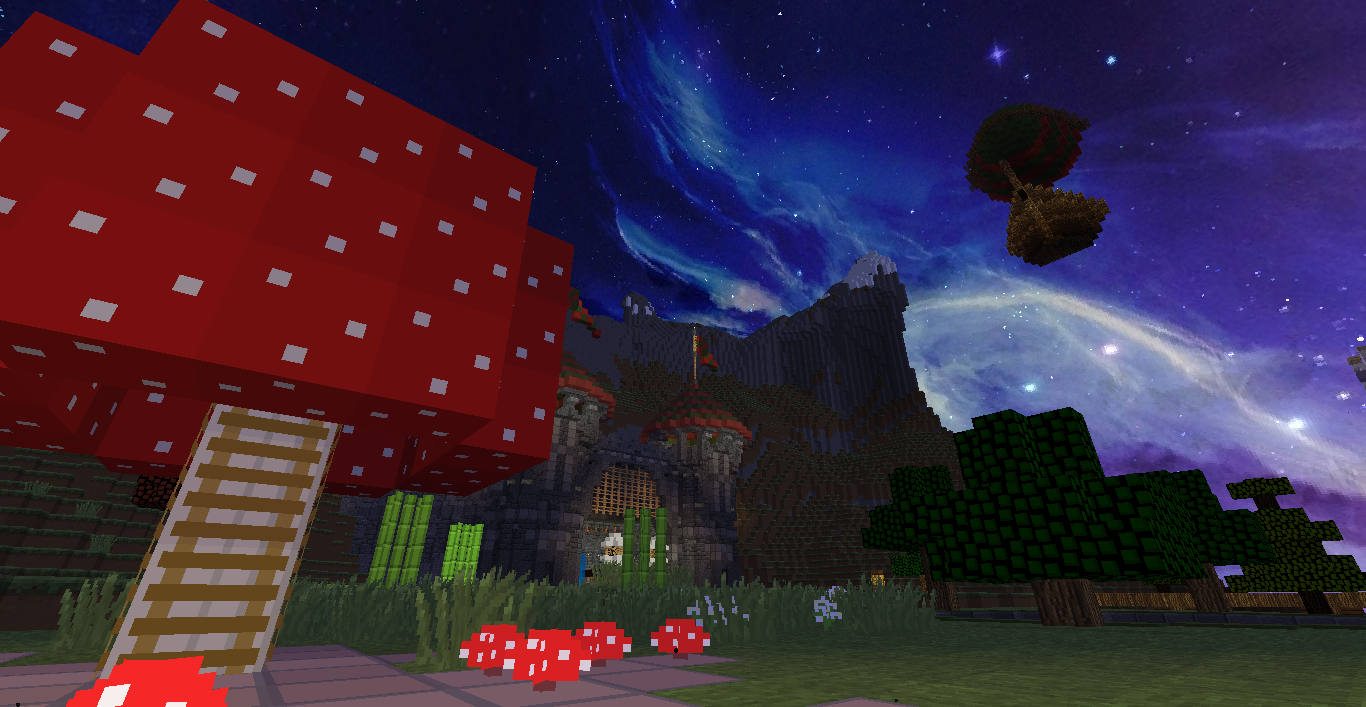 after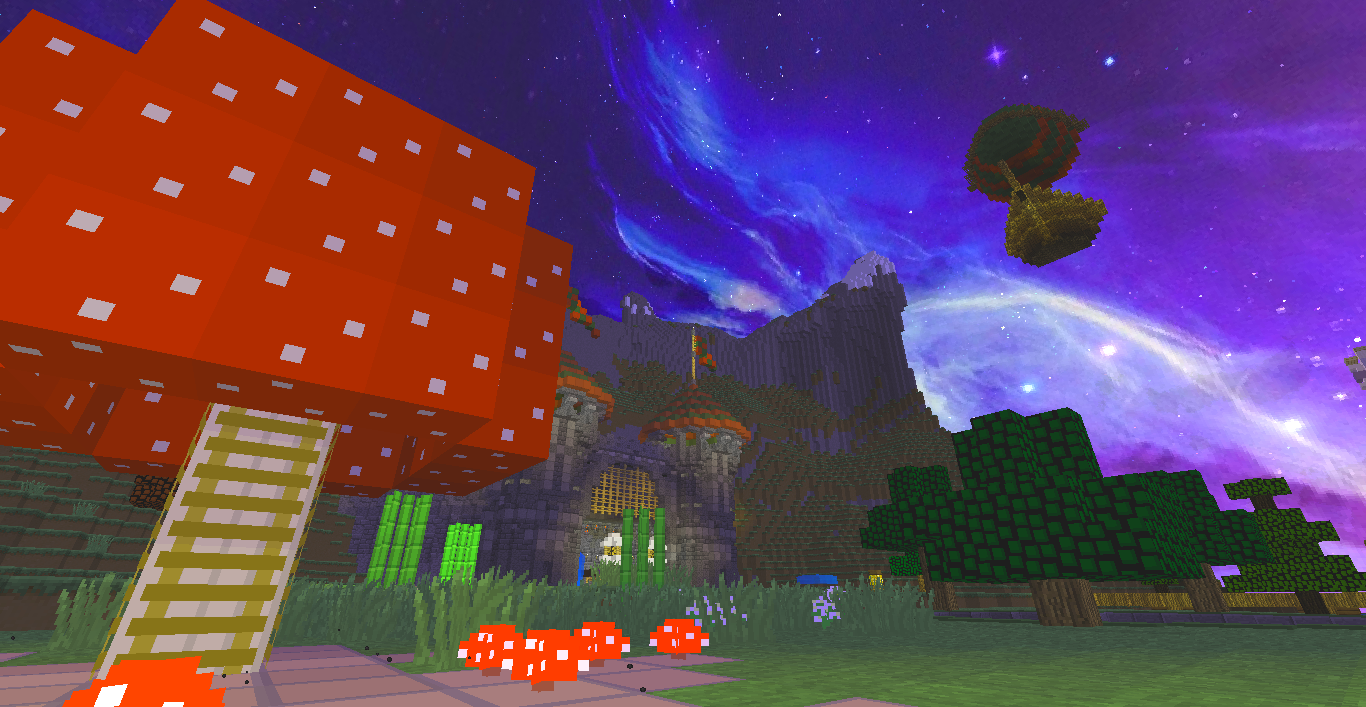 Lunar Client also offers various HUD mods that can provide information to your viewers. These mods can be activated and configured by navigating to RShift > Mods and then searching for the mod name at the top right. The Pack Display Mod shows the current texture pack that you are using so that you don't need to constantly repeat the name of the texture pack. This can save a lot of time and energy—both on your part and your viewers'. Another useful mod is the Keystrokes Mod. This mod shows whenever any of the movement keys are pressed as a visual on your HUD, allowing your viewers to see how you PvP, parkour, or just move around. This helps you to illustrate certain techniques to your viewers and show them how you play Minecraft. Finally, Lunar Client also has the Server Address Mod, which displays the IP of the server that you're playing on as an element on your HUD so that your viewers can easily play with you.

Need More Information?
If you have any questions or concerns, reach out to our staff team on the Lunar Client Discord or open a ticket on our support website.